Pre-made Hummus can be purchased from most supermarkets but you can make your own using our easy Hummus recipe, which is rather easy to make. This high fiber spread is a great addition to a vegetarian diet and can be eaten on days when you aren't eating any meat protein.
Mainly made in North Africa, in countries like Morocco and Egypt, hummus is well known as a spread or dip in North America. It is made from chickpeas which are a staple in most North African kitchens. You can purchase it ready made at your local grocery store but why not make your own from scratch? It takes little time to prepare and it makes a healthy snack as well.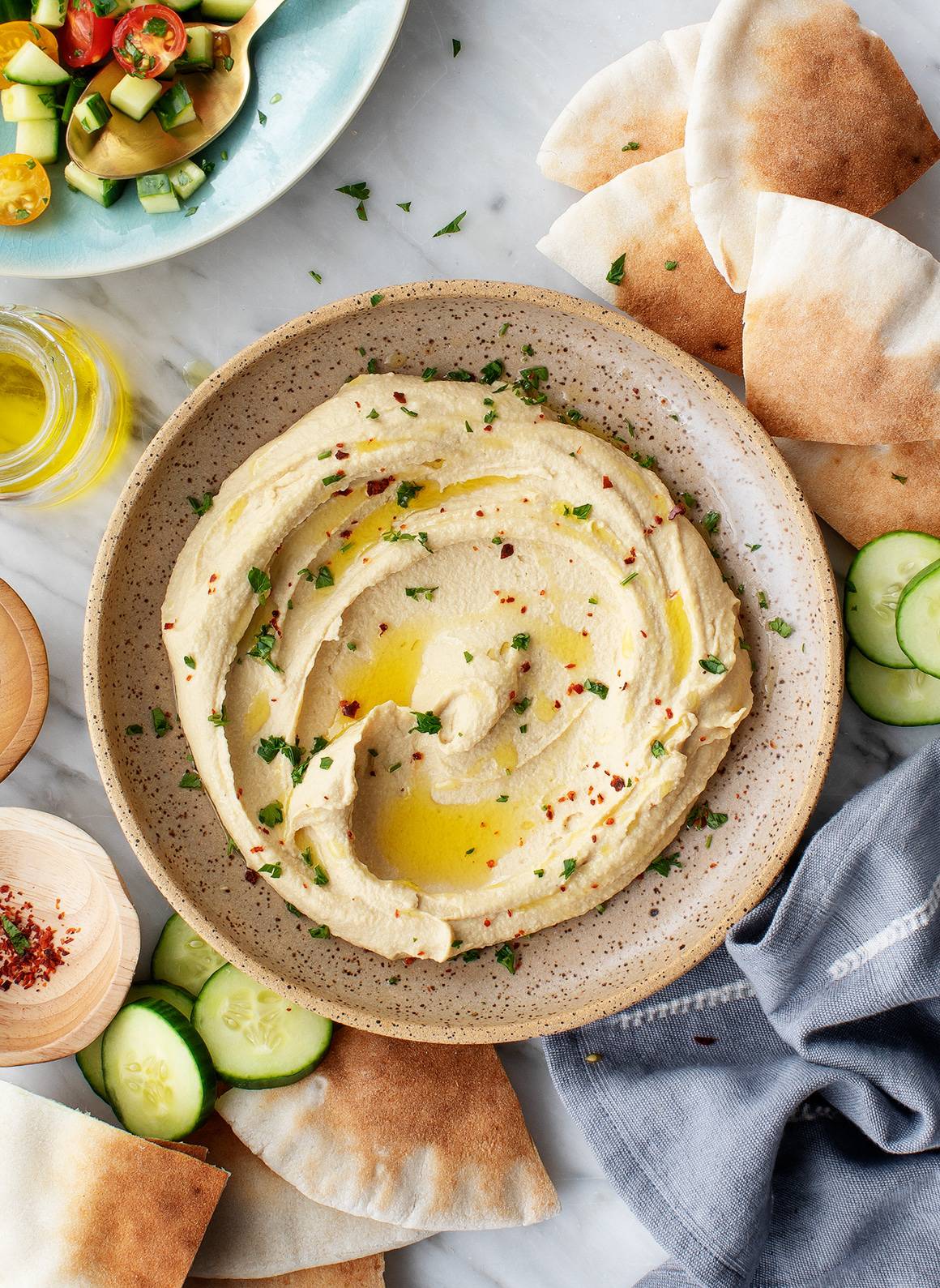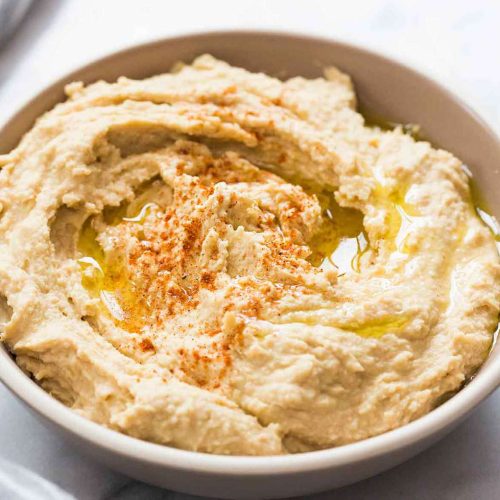 EASY HUMMUS RECIPE
Explore the world of easy hummus creation with our simple recipe. Elevate your snacking routine and indulge in the creamy, versatile dip that takes minutes to prepare. Whether for a casual gathering or a solo treat, this hummus recipe promises a burst of flavor in every bite.
Ingredients
2 

cups 

soaked chickpeas

1 

tbsp 

garlic, minced

3 

tbsp 

olive oil

¼ 

cup 

water 

¼ 

cup 

tahini

½ 

 lemon (juiced)

salt & pepper to season

3 

tbsp 

 flat leaf parsley, finely chopped(optional)

Pinch of cayenne pepper
Instructions
In a blender, mix all ingredients into a smooth paste.

Place in the refrigerator to chill and to allow the flavours to mix, for at least an hour before using.
Notes
Serve on crisp crackers or on wedges of pita bread.
Serve as a dip with freshly cut vegetables.
Use in place of mayonnaise when making a wrap or a sandwich.
Cooking Tips for Perfecting Your Easy Hummus
Taste as You Go: As you blend the ingredients, taste along the way. Adjust the quantities of lemon juice, tahini, garlic, and spices to your preference.
Use High-Quality Ingredients: Choose the best quality chickpeas, tahini, and olive oil you can find. Quality ingredients translate to better flavor.
Tahini Mixing: Stir the tahini well before using. It tends to separate, and a thorough mix ensures a consistent flavor and texture.
Chickpea Prep: If you have the time, remove the skins from the chickpeas for an ultra-smooth texture. While optional, it does make a noticeable difference.
Blending Techniques: Start with the liquids (lemon juice, olive oil, tahini) at the bottom of the blender to help the blades move more efficiently through the mixture.
Adding Water: If your hummus turns out too thick, add a little water, a tablespoon at a time, to reach your desired consistency.
Play with Flavors: Feel free to experiment with additional ingredients like roasted red peppers, sun-dried tomatoes, or fresh herbs for unique variations.
Texture Adjustments: For a chunkier hummus, pulse the blender a few times instead of continuous blending.
Citrus Zest: If you love a tangy kick, consider adding a bit of lemon zest to enhance the lemon flavor.
Garnish Creatively: Sprinkle paprika, cumin, chopped herbs, or even a drizzle of balsamic vinegar for added visual and flavor appeal.
Serving suggestions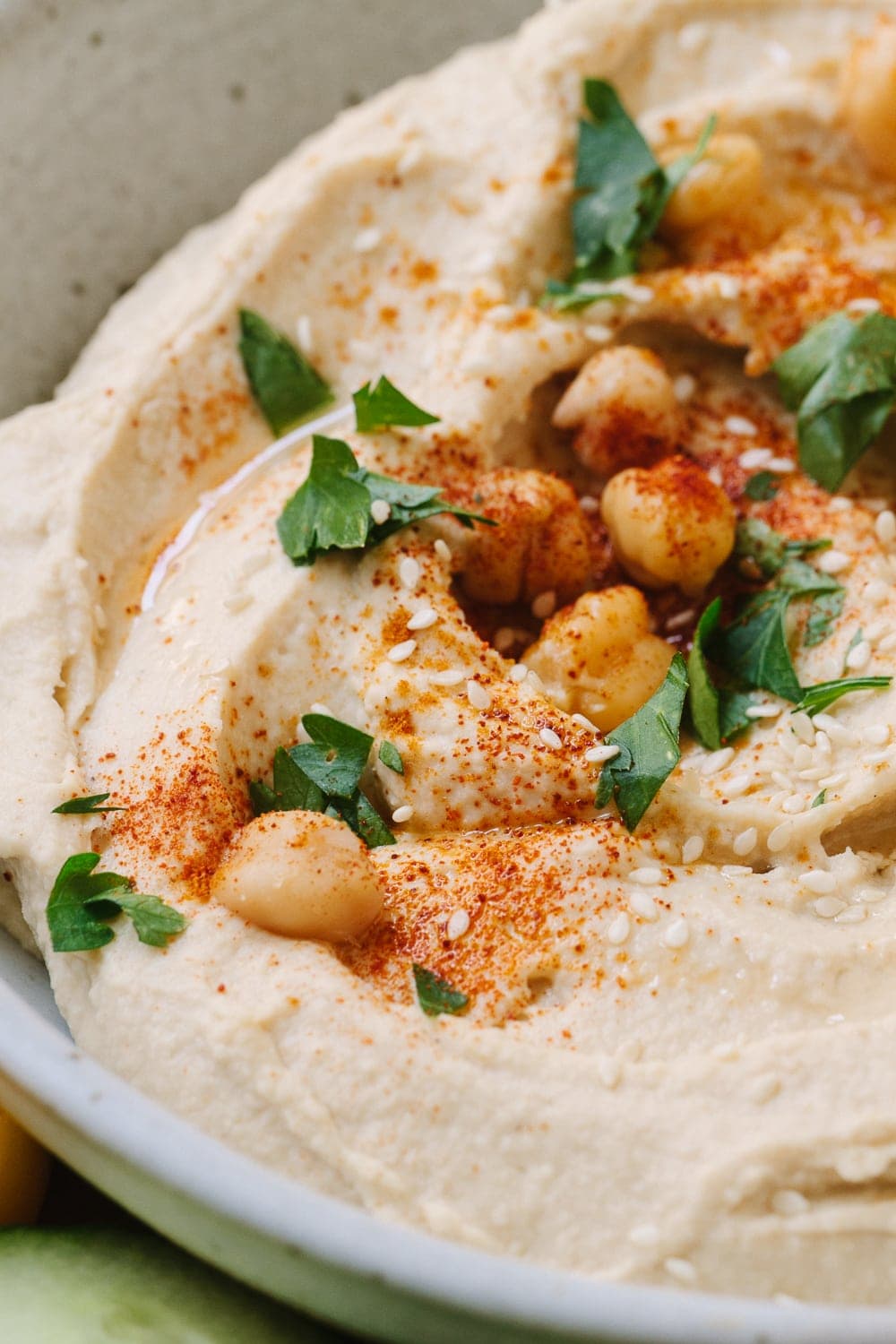 Classic Dipper Delight: Serve hummus with an array of colorful vegetable sticks like carrots, cucumbers, bell peppers, and celery. The crunch of fresh veggies pairs perfectly with the smoothness of the hummus.
Pita Perfection: Warm pita bread or pita chips provide a delightful canvas for scooping up hummus. Tear or cut the pita into manageable pieces for a satisfying snack.
Mediterranean Mezze Spread: Create a Mediterranean-inspired spread by pairing hummus with olives, feta cheese, grape leaves, and warm pita. It's a flavor journey in every bite.
Wholesome Wrap Base: Spread a layer of hummus onto a tortilla or flatbread before adding grilled vegetables, falafel, or roasted chicken. Roll it up for a nutritious and flavorful wrap.
Bruschetta Brilliance: Top slices of toasted baguette or rustic bread with a generous dollop of hummus. Add chopped tomatoes, basil, and a drizzle of balsamic glaze for a gourmet twist.
Salad Dressing Dynamo: Dilute hummus with a bit of water and lemon juice to create a creamy dressing for salads. It adds a rich, nutty flavor to your greens.
Buddha Bowl Boost: Add a scoop of hummus to your favorite grain or protein bowl. It brings a creamy element that complements various textures and flavors.
Flavorful Pasta Sauce: Mix hummus with a touch of olive oil, lemon juice, and pasta cooking water to create a luscious and flavorful pasta sauce.
Nutrient-Packed Breakfast: Spread hummus on whole-grain toast and top with sliced avocado, a sprinkle of red pepper flakes, and a drizzle of olive oil for a nourishing morning meal.
Avocado Fusion: Combine hummus and mashed avocado for a creamy, dreamy dip that's both nutritious and utterly delicious.
FAQs of Hummus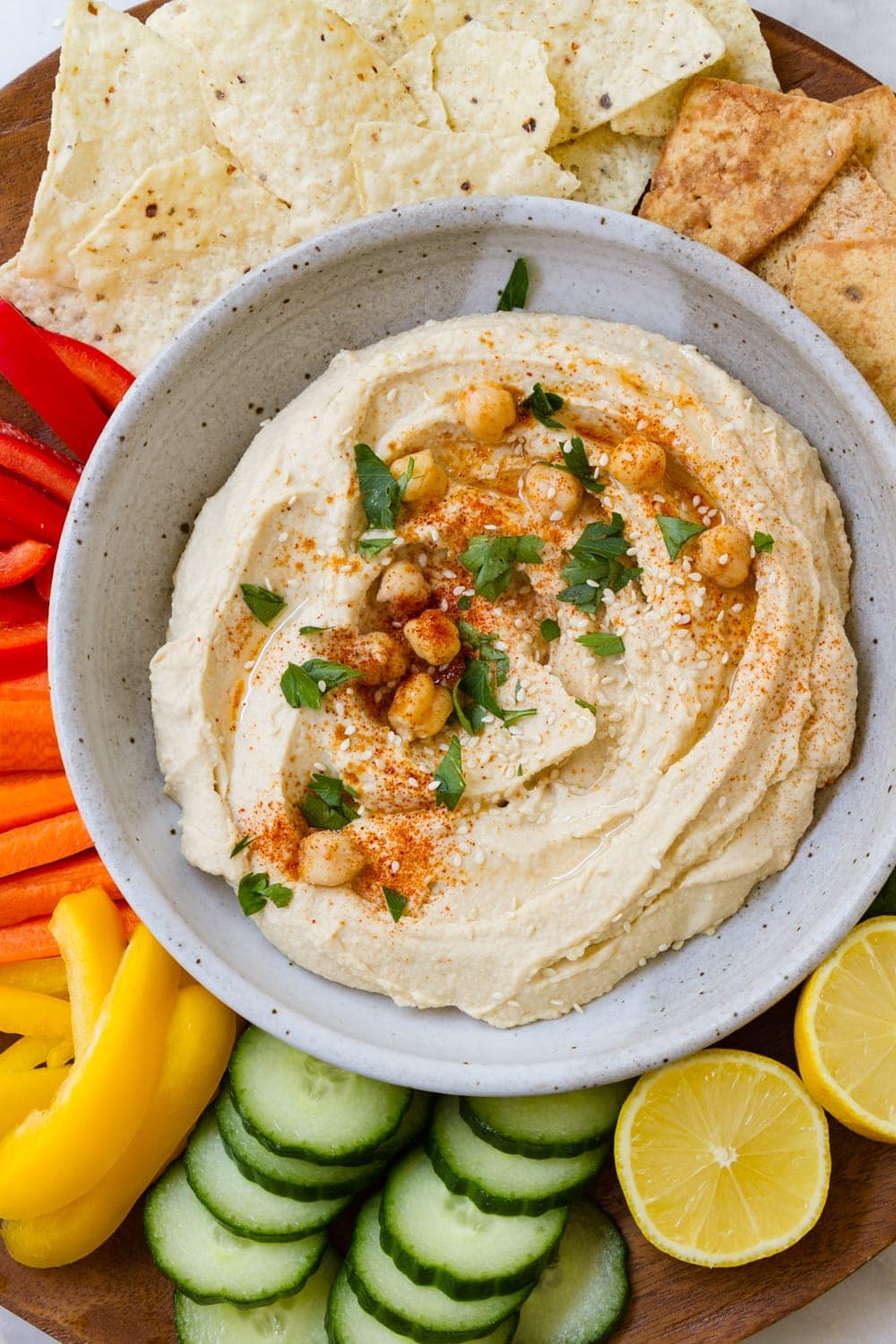 Can I use canned chickpeas? Absolutely! Canned chickpeas work perfectly fine. Rinse and drain them before blending.
How can I achieve a smoother texture? For an extra smooth hummus, peel the skins off the chickpeas before blending. It's a bit time-consuming but worth it.
Is tahini necessary? Tahini adds depth and flavor, but if you're out, you can substitute with peanut or almond butter.
How long does hummus last in the fridge? Hummus can stay fresh in the refrigerator for up to a week when stored in an airtight container.
Can I freeze hummus? Yes, you can freeze hummus for up to three months. Thaw it in the refrigerator and give it a stir before enjoying.
Elevate your snacking experience with our easy hummus recipe. Delight in crafting a creamy, flavorful dip that adds a touch of gourmet to your everyday moments. Let's embark on a culinary journey that turns humble chickpeas into a sensation.