This is a flavorful and easy Blackeyed Bean Soup recipe that uses West African flavors and ingredients. It is a healthy gluten free recipe that takes very little time to prepare. Using freshly soaked beans is best in this recipe but if you do not have the time, canned beans will do in pinch.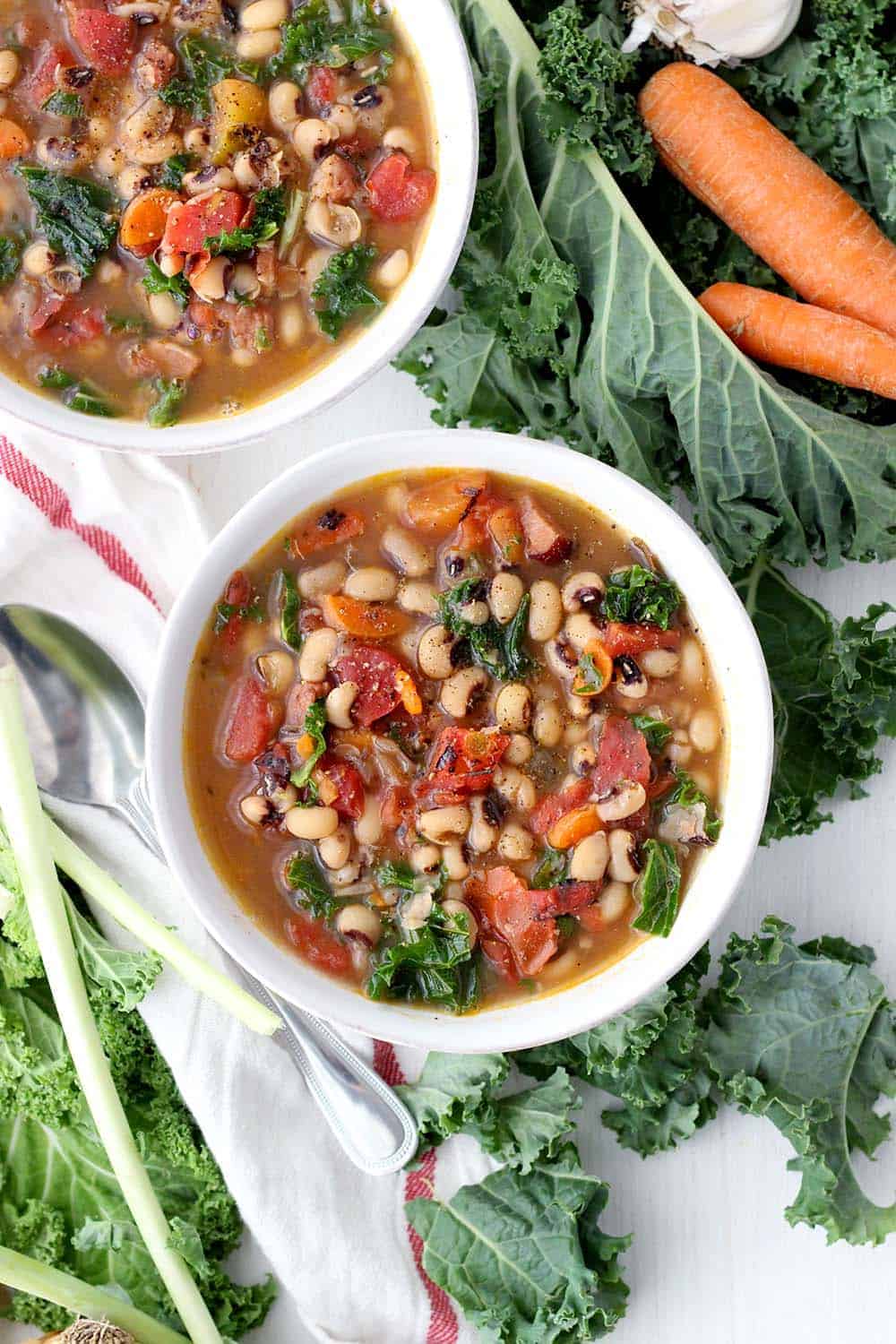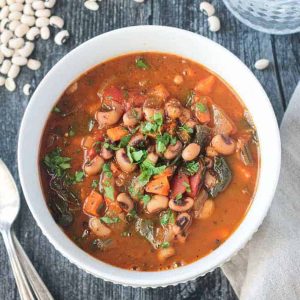 BLACKEYED BEAN SOUP
Indulge in the heartwarming embrace of Black-Eyed Bean Soup, a creation that elevates the concept of comfort food. Crafted with love, this soup brings together wholesome ingredients to create a symphony of flavors that dance on your palate. Whether it's a quiet night in or a joyful gathering, this soup holds the power to create cherished memories around the table.
Ingredients
2 

Cups 

Cooked Blackeyed Beans

2 

Tbsp 

Olive Oil

¼ 

Cup 

Onions

2 

Cloves 

Garlic (Minced)

1 

Tbsp 

Hot Chili peppers

¼ 

Cup 

Cooked Shrimp (Blended)

2 

Tbsp 

Peanut Butter (Smooth)

1 

Lemon, Juiced

1½

Cups 

Chicken/Vegetable Broth

Salt & Pepper to Taste
Instructions
On medium heat, heat oil in a medium size saucepan.

Add onions and cook until soft before adding garlic.

Add hot chili peppers, shrimp paste, beans, salt and pepper.

Cook for about 2 minutes.

Mix in the peanut butter and pour in a little broth as needed until you create a smooth paste

Add broth and bring to a slight boil.

Turn heat down to simmer and cook for about 15 minutes.

emove from heat and add lemon juice just before serving.
Notes
The recipe combines tender black-eyed beans, aromatic herbs, and hearty vegetables for a satisfying soup.
Customize the seasoning and spices according to your preference for a personalized taste experience.
Nutritional ingredients of Blackeyed Bean Soup
Blackeyed Bean Soup not only warms your soul but also provides a range of essential nutrients that contribute to your well-being. Let's explore the nutritional benefits hidden within this comforting bowl:
Protein Powerhouse: Blackeyed beans are an excellent source of plant-based protein, making this soup a nourishing option for vegetarians and vegans. Protein is essential for building and repairing tissues and supporting overall body functions.
Fiber-Rich Goodness: Loaded with dietary fiber, blackeyed beans promote healthy digestion and help maintain a feeling of fullness. A diet rich in fiber contributes to digestive health and can assist in managing weight.
Abundant Vitamins and Minerals: The soup's medley of vegetables and beans introduces a spectrum of vitamins and minerals, including folate, potassium, iron, and magnesium. Folate is vital for cell growth and development, while potassium supports heart health and fluid balance.
Low in Fat, High in Flavor: Blackeyed Bean Soup is naturally low in fat, making it a heart-friendly option. The combination of herbs and spices enhances the flavor profile without relying on excessive fat content.
Versatile Nutritional Profile: Customize the ingredients and seasoning to meet your dietary preferences. Whether you're aiming for a lower-sodium option or a more indulgent treat, the nutritional versatility of this soup can be tailored to your needs.
Pairing Possibilities: You can elevate the nutritional impact of your Blackeyed Bean Soup by pairing it with whole grains or a side of leafy greens. These additions contribute additional vitamins, minerals, and dietary fiber to your meal.
Serving Suggestion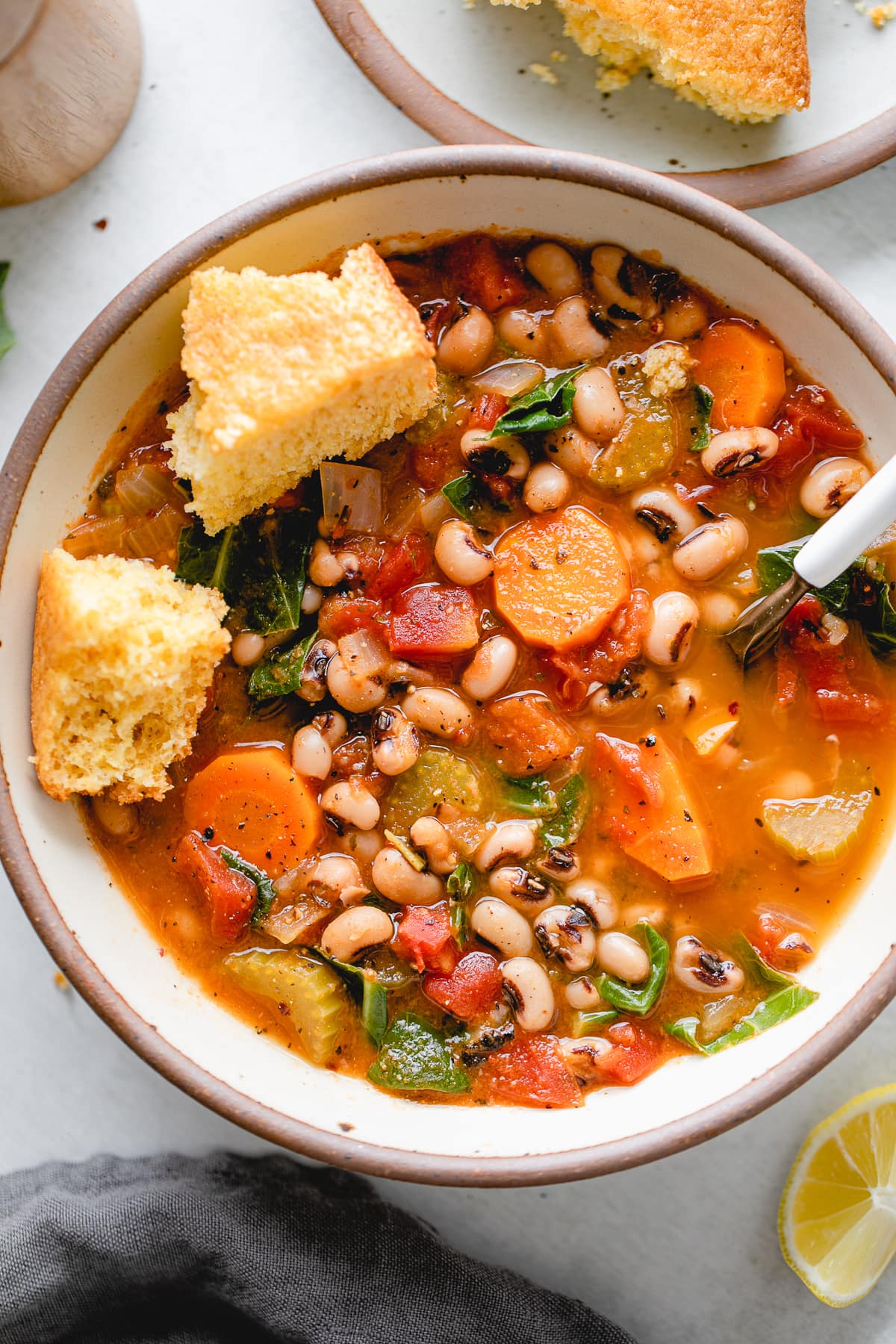 Rustic Bread Delight: Pair your Blackeyed Bean Soup with crusty artisan bread. The combination of warm soup and freshly baked bread creates a fulfilling and satisfying meal.
Fresh Salad Harmony: Balance the heartiness of the soup with a refreshing side salad. A mix of leafy greens, colorful vegetables, and a light vinaigrette complements the soup's flavors.
Lunchtime Revival: Turn the soup into a rejuvenating lunch by serving it alongside a wrap or sandwich. The contrasts in textures and tastes make for a well-rounded meal.
Party Starter: Impress your guests by presenting Blackeyed Bean Soup as an appetizer at gatherings. Garnish with a dollop of sour cream or a sprinkle of fresh herbs for a touch of elegance.
Gourmet Toppings Bar: Create a toppings bar with a variety of options like shredded cheese, chopped scallions, crumbled bacon, or even avocado slices. Let everyone customize their soup to their liking.
Family Feast: Gather your loved ones around the table for a hearty family dinner. Serve the soup with a platter of assorted bread rolls, perfect for dipping and savoring.
Dinner Party Elegance: Elevate your dinner parties by presenting Blackeyed Bean Soup in elegant soup bowls. Pair it with a glass of wine or sparkling water for a sophisticated touch.
Dipping Duo: Offer the soup as a dipping option for crispy vegetable sticks or whole-grain crackers. This creative approach adds a playful element to your meal.
Comfort Food Combo: Combine the soup with classic comfort foods like grilled cheese sandwiches or homemade cornbread. The familiarity of these pairings enhances the overall experience.
Solo Bliss: Sometimes, the best company is your own. Enjoy a bowl of Blackeyed Bean Soup as a soul-soothing treat, appreciating its flavors and textures without any distractions.
FAQs of Blackeyed Bean Soup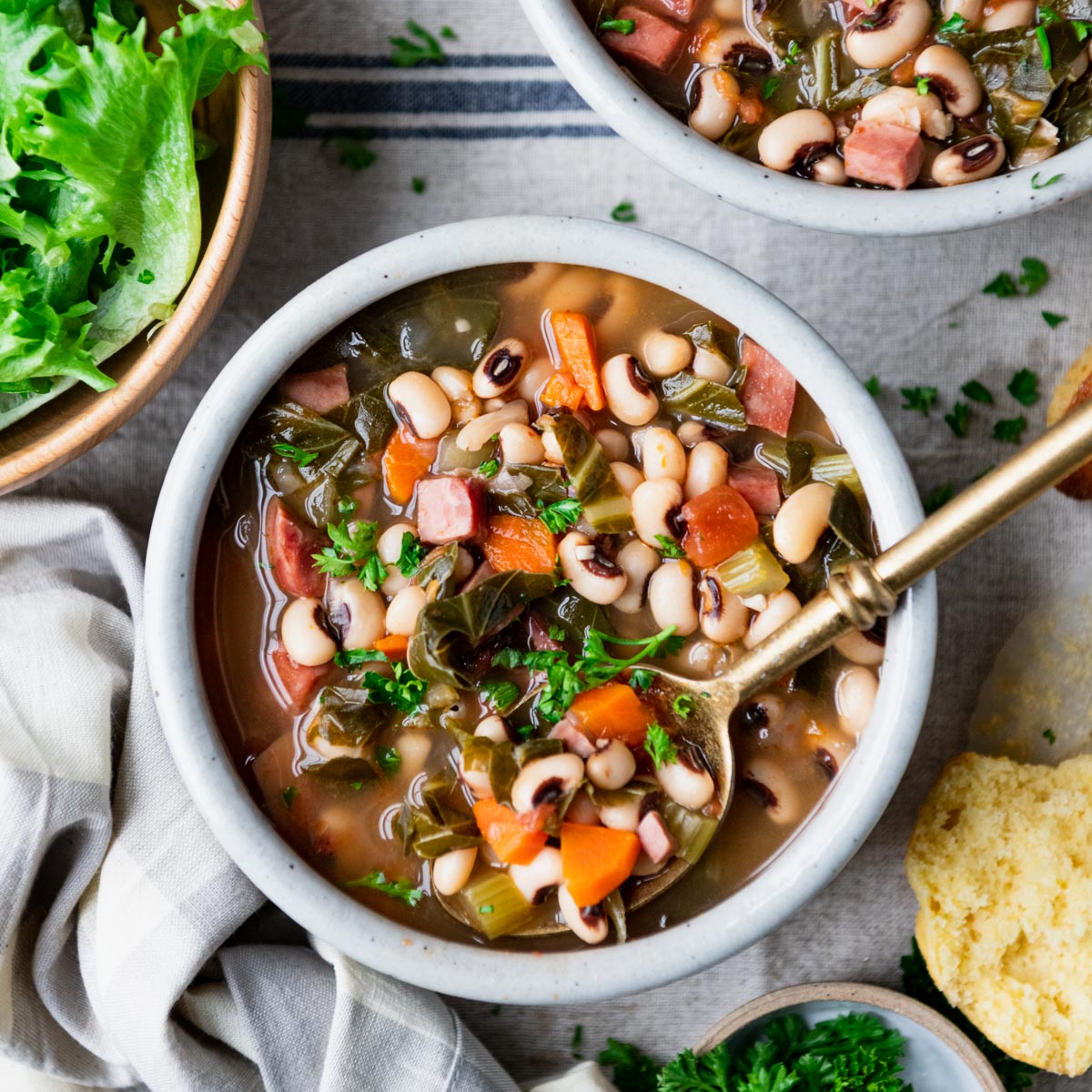 Can I make this soup ahead of time? Absolutely! In fact, the flavors deepen when the soup sits overnight. Reheat gently, and your soup will taste even better.
Can I use canned black-eyed beans? Yes, you can. However, using dried beans that you soak and cook yourself can enhance the flavor and texture of the soup.
How do I store leftovers? Store leftover soup in an airtight container in the refrigerator for up to 3 days. Reheat on the stovetop or in the microwave.
Can I make this soup vegan? Certainly! Skip the dairy-based garnishes and choose plant-based alternatives for a vegan-friendly version.
Can I freeze the soup? Yes, you can freeze the soup for up to 2 months. Thaw it in the refrigerator before reheating.
Get ready to relish the ultimate comfort food – Blackeyed Bean Soup. In this recipe, I'll guide you through creating a soul-nourishing bowl that's perfect for cozy evenings or gatherings. Let's embark on a culinary journey that celebrates the harmony of flavors and the joy of sharing a hearty meal.